Gmail POP3 Checker
Gmail POP3 Checker is a Userscript you can install in either Chrome or Firefox. The scipt lets you increase the speed Gmail checks external accounts (POP3). Without this script, Gmail will only check external accounts once per hour. This script and server are supported by donations.
Free: The free version makes a request every 12 minutes. That's 5x faster than Gmail's default! You can also click on the countdown to POP3 immediately.
Donation: With a donation of $5+ USD you can unlock all of the settings forever, including 3 minute requests which are 20x faster than Gmail's default. Donations may be made via Paypal once the script is installed.
Install in Chrome or Firefox
Open
Gmail
or refresh it.
Install in other browsers
I do not support installation in other browsers or old versions of Chrome or Firefox. However, it is possible you could get the script to install in other browsers that support userscripts or have third party add-ons to install userscripts similar to Tampermonkey or Greasemonkey.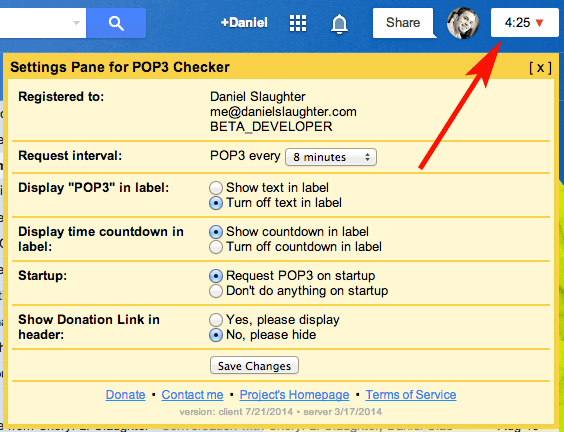 Frequently Asked Questions
Will your script check more than one of my POP3 accounts?
Yes. The script will check all POP3 accounts you have entered into Gmail under Settings > Accounts and Import > Check mail from other accounts (using POP3).
Will the script continue to quickly POP3 my emails when I close Gmail or by browser?
No. The script only works while Gmail is open and it is running. If you close out of Gmail or lose internet your POP3 interval will return to normal.
How do I uninstall the script?
The easiest way to uninstall the script is by going to Window > Extensions/Add-ons, finding Tampermonkey/Greasemonkey in the list, and then click the trash icon next to it.
---
View the most recent Change Log. Downloading and/or installing this script signifies your acceptance of the Terms of Service. This work is distributed under the W3C(R) Software License in the hope that it will be useful, but WITHOUT ANY WARRANTY; without even the implied warranty of MERCHANTABILITY or FITNESS FOR A PARTICULAR PURPOSE. Copyright © 2023 Daniel Slaughter, LLC. All Rights Reserved.